Breakfast Egg Bites
By: Instant Brands Culinary Team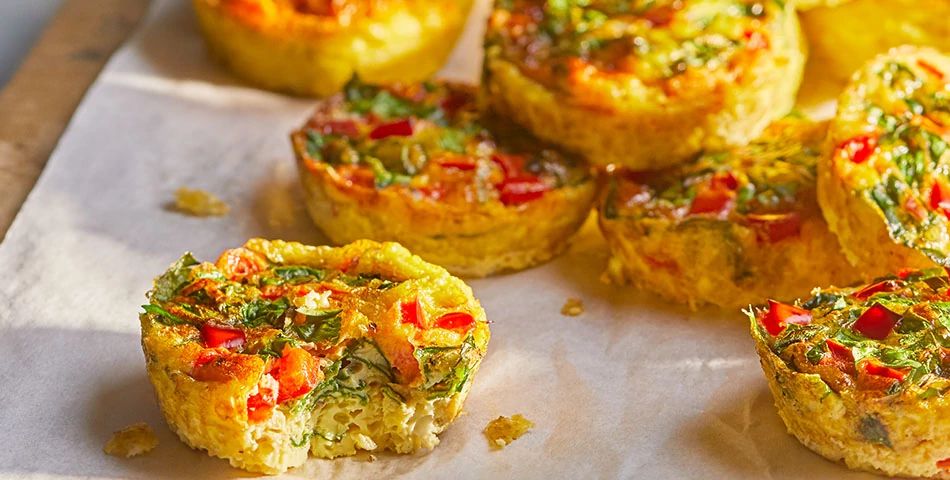 Prep Time: 20 minutes
Cook Time: 8-10 minutes
Difficulty: 2
Yields: 24 pieces (2 batches)
Course: Breakfast 
Instant Brand Products: Omni 18L FamilyPlus
Cooking Methods: Air Fry
Ingredients
6 eggs
1/4 cup milk
1/4 teaspoon salt
1/8 teaspoon pepper
Cooking spray
    
SAUSAGE & CHEDDER
1/2 cup cooked breakfast sausage – crumbled
1/2 cup cheddar cheese - shredded
    
SPINACH & RED PEPPER
1/2 cup chopped spinach - cooked
1/2 cup red pepper – small diced
1/4 cup green onion – small dice
    
Equipment required: Non-stick Mini Muffin Pan, 9-inch
Directions
In a bowl, whisk together the eggs, milk, salt and pepper.  Pour egg mixture into a measuring cup.  This will make is easier to fill the cups.
In separate bowls, combine the filling ingredients.
Spray the muffin pan with cooking spray.
In the muffin pan, divide the fillings into the cups, filling only halfway.  Only use half the filling mixture, as you will have enough to make two batches of breakfast bites.
Pour the egg mixture into the cup, filling up to the top.
Set cooking rack to Bake level. Preheat the oven, select Bake at 350°F and set for 8 minutes. Press Start.
When preheated,  place it on the cooking pan and insert into oven.
When cook time is completed, carefully remove from oven, and let rest for 5 minutes before removing the egg bites from pan.
Spray the muffin pan again, fill the cups, and bake the second batch of egg bites.