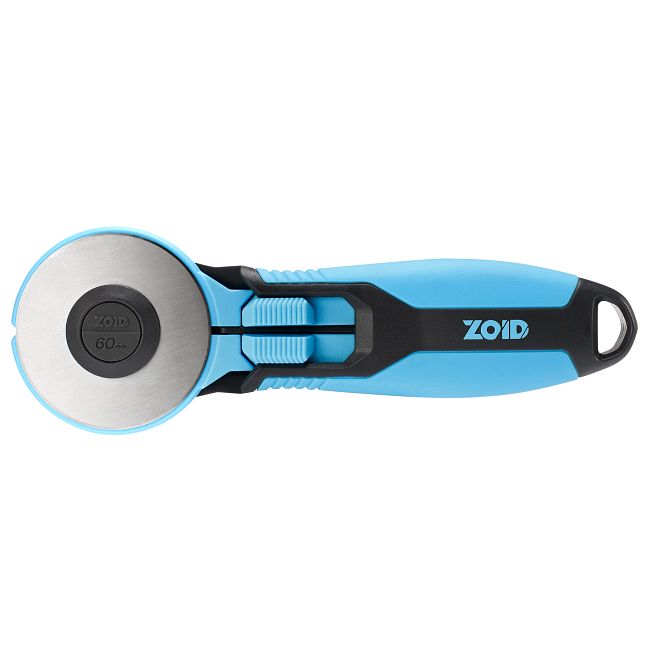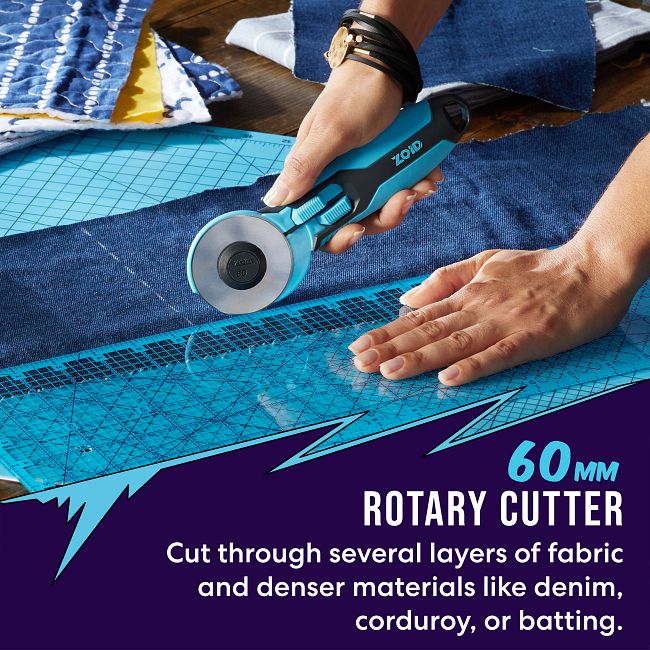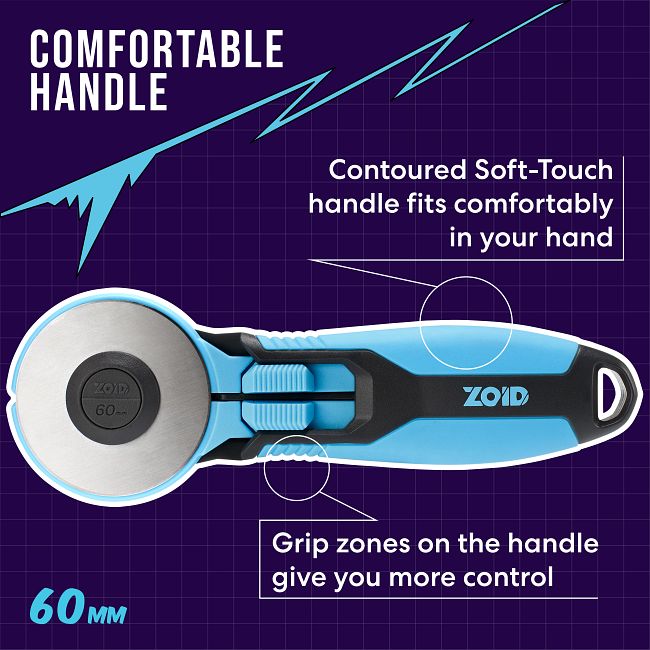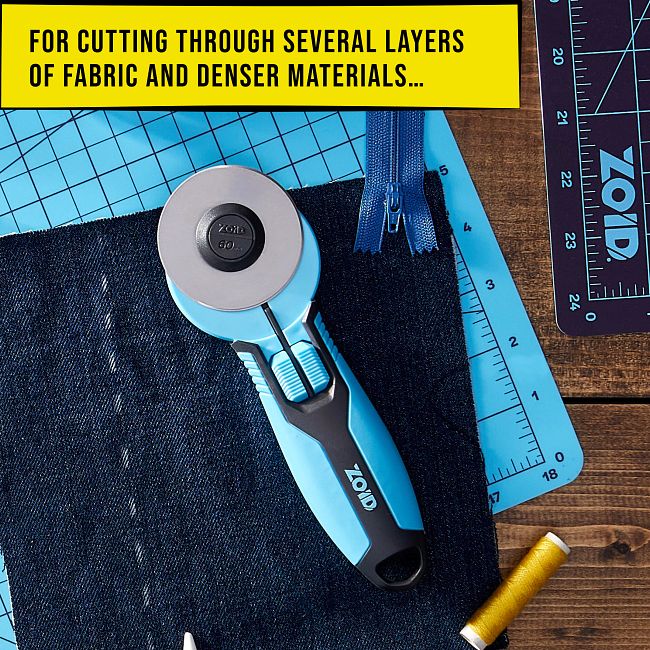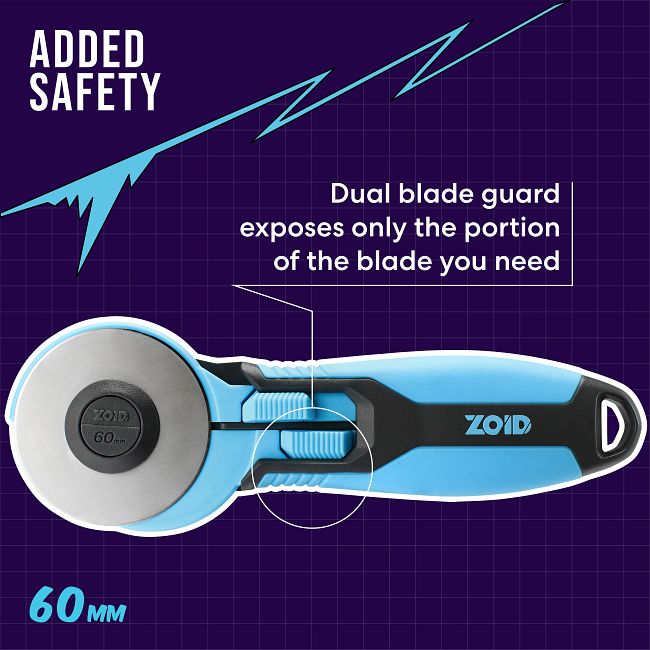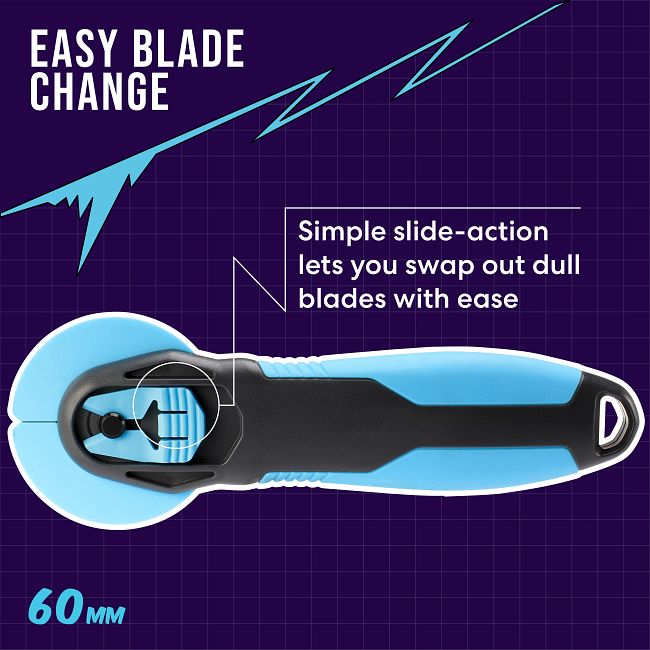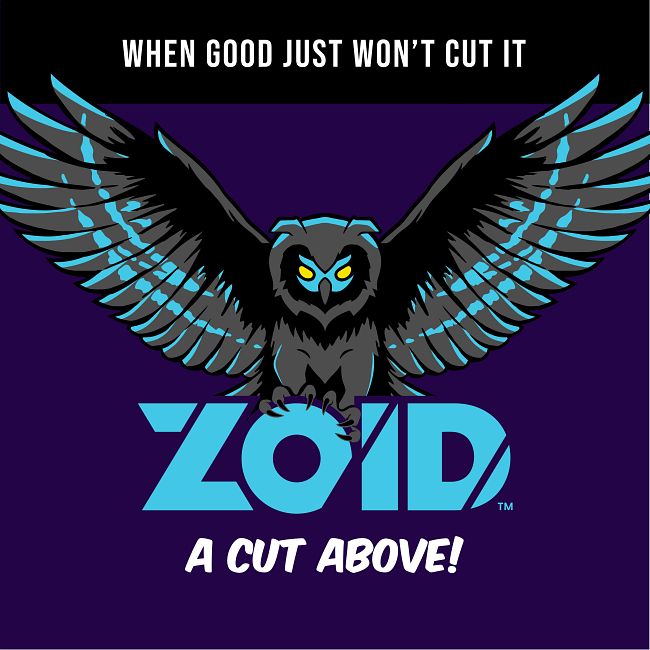 ZOID Tools® 60mm Rotary Cutter with Soft-Touch Handle
For cutting through several layers of fabric and denser materials like denim, corduroy or batting.
US $8.94

was $17.88
In Stock
Product Details
The ZOID™ 60mm Rotary cutter is perfect for cutting through several layers of thick fabric. The Soft-Touch contoured handle offers comfort while cutting and the grip zone adds extra leverage for easy cuts. The slide-action blade change makes swapping out dull blades fast and easy.
Comfortable Handle: The contoured Soft-Touch handle fits comfortably in your hand even with longer periods of cutting
Added Safety Features: Dual blade guard exposes only the portion of the blade you need for added safety
For What You Need: The 60mm blade is great for cutting through several layers of fabric or denser fabrics, like denim
Change Blades Fast and Easy: One-button blade change for quickly swapping out dull blades
Ultimate Control: Grip zones on the handle give you more control to cut with confidence
Easy to Store: Pass-through in the handle for lanyards
Rotary Knives:

Always keep blades away from fingers and body. The blades of these products are EXTREMELY SHARP AND SHOULD BE HANLDED WITH CARE. When not in use, return blade guard(s) to closed position. Keep out of reach of children. If handle or blade is damaged, do not use and dispose of safely. Ensure blade is not loose. Always cut on a solid surface and place protective covering on working surface before cutting.
ZOID™ cutting tools are warranted to the original purchaser only to be free from defects in material and workmanship for the product's useful life. Proof of purchase from an authorized ZOID™ retailer is required for all warranty claims. Please keep your proof of purchase, as you may be required to provide this for warranty. This warranty does not apply to damage that INSTANT BRANDS determines to result from misuse, alterations, abuse, normal wear and tear, lack of maintenance, or accidents. KEEP THE PRODUCT, as you may be asked to return it. This warranty does not apply to blades / blade refills.
This Limited Lifetime Warranty applies to purchases made from authorized retailers of ZOID™ by the original owner and is not transferable. Provided the product was used in accordance with the use & care instructions, Instant Brands will, in its sole and exclusive discretion, either: (i) repair defects in materials or workmanship; or (ii) replace the product. In the event that your product is replaced, the Limited Lifetime Warranty on the replacement product will expire twelve (12) months from the date of receipt. Failure to register your product will not reduce your warranty rights. The liability of Instant Brands, if any, for any allegedly defective product or part will not exceed the purchase price of a comparable replacement product.
What is not covered by this warranty?
Products purchased, used, or operated outside of the United States and Canada.
Products that have been modified or attempted to be modified.
Damage resulting from accident, alteration, misuse, abuse, neglect, unreasonable use, use contrary to the operating instructions, normal wear and tear, commercial use, improper assembly, disassembly, failure to provide reasonable and necessary maintenance, fire, flood, acts of God, or repair by anyone unless directed by an Instant Brands representative.
Incidental and consequential damages.
The cost of repair or replacement under these excluded circumstances.
EXCEPT AS EXPRESSLY PROVIDED HEREIN AND TO THE EXTENT PERMITTED BY APPLICABLE LAW, INSTANT BRANDS MAKES NO WARRANTIES, CONDITIONS OR REPRESENTATIONS, EXPRESS OR IMPLIED, BY STATUTE, USAGE, CUSTOM OF TRADE OR OTHERWISE WITH RESPECT TO THE PRODUCT OR PARTS COVERED BY THIS WARRANTY, INCLUDING BUT NOT LIMITED TO, WARRANTIES, CONDITIONS, OR REPRESENTATIONS OF WORKMANSHIP, MERCHANTABILITY, MERCHANTABLE QUALITY, FITNESS FOR A PARTICULAR PURPOSE OR DURABILITY.
Some states or provinces do not allow for: (1) the exclusion of implied warranties of merchantability or fitness; (2) limitations on how long an implied warranty lasts; and/or (3) the exclusion or limitation of incidental or consequential damages; so these limitations may not apply to you. In these states and provinces, you have only the implied warranties that are expressly required to be provided in accordance with applicable law. The limitations of warranties, liability, and remedies apply to the maximum extent permitted by law. This limited warranty gives you specific legal rights, and you may also have other rights which vary from state to state or province to province.
Warranty Claims
To make a warranty claim, please contact our Customer Care Department by phone at 1-800-999-3436 or by creating a support ticket online here.