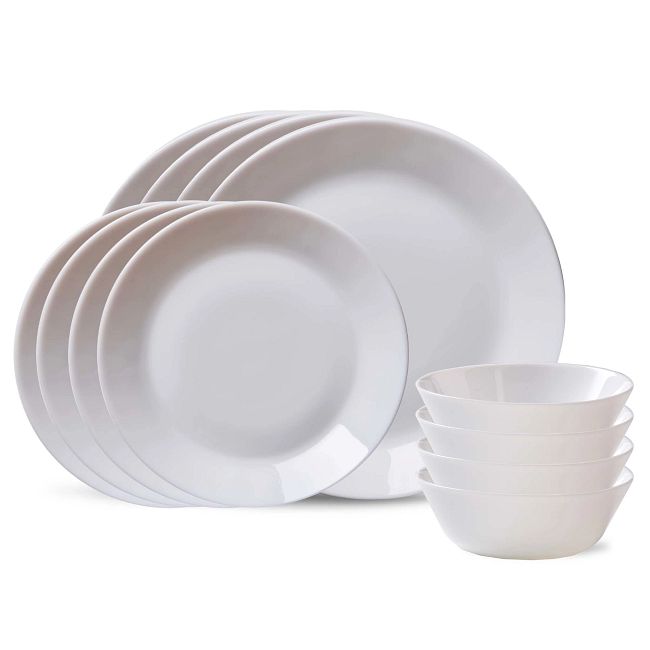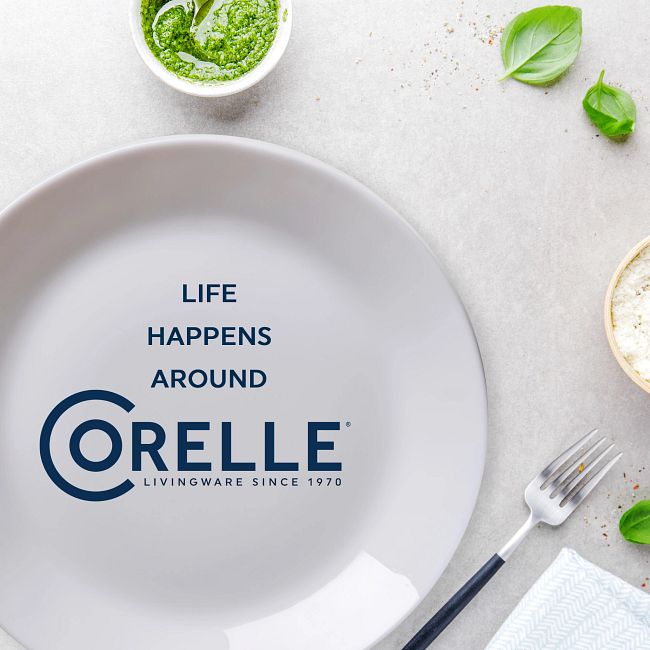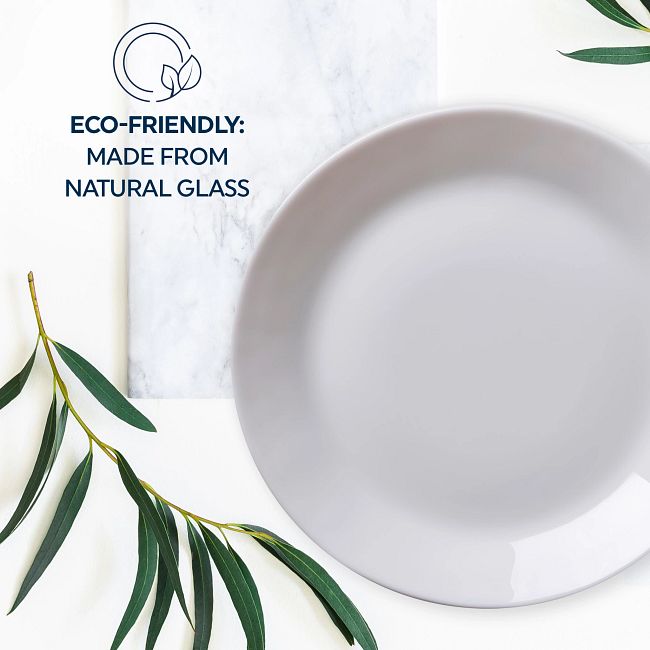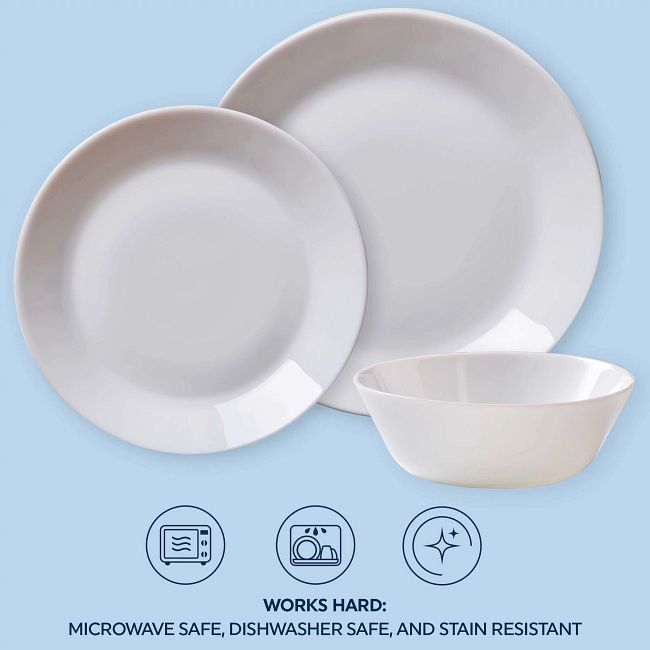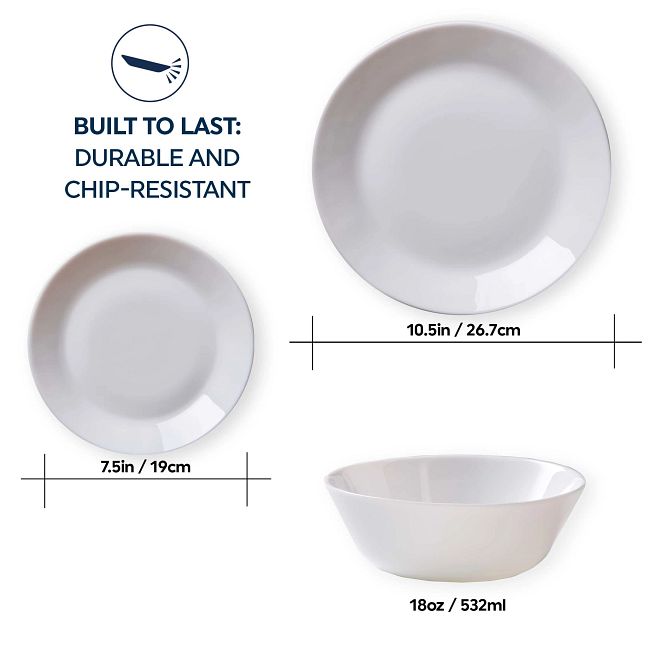 Corelle® MilkGlass™ Bright White 12-piece Dinnerware Set, Service for 4
Combining classic white color with updated forms and higher rims, this is dinnerware for today's meals.
Product Details
Sleek white dinnerware gets a modern makeover with updated forms for the way we eat today. The bright white color is the perfect, clean background for any type of food. The higher rims are ideal for the eat-anywhere meals and saucier foods we enjoy. Classic white lets the food take center stage and also pairs well with colors and patterns in your accessories.
Designed for the way we eat today: higher rims are perfect for eating anywhere around the home
Any occasion: sleek, clean design for everyday meals and entertaining at home
The better choice: ultra-hygienic, non-porous and easy to clean
Eco-friendly: made from pure natural glass
Built to last: durable and chip-resistant finish
Works hard: microwave and dishwasher safe
Made in China
1-year limited warranty
Set Includes
| Item | Quantity | Dimension | Capacity |
| --- | --- | --- | --- |
| Dinner Plates | 4 | 10.5'' diameter | |
| Salad Plates | 4 | 7.5'' diameter | |
| Soup & Cereal Bowls | 4 | 6'' diameter x 2'' high | 18 ounces |
SAFETY, USE AND CARE
Read and save these instructions for best results with your new dinnerware.
These instructions apply to Corelle® Everyday opal glass products.
Note: for Corelle Vitrelle, Corelle Coordinates and Corelle Nature, refer to those separate Safety, Use and Care instructions.
Safety Warning
All dinnerware can break, including glass plates and bowls. You can help prevent damage and personal injury by following these guidelines.
1. When used near extreme heat, glass dinnerware can break.
DO NOT use with:
Standard

Countertop

Other

Oven

Convection Oven

Stovetop

Broiler

BBQ Grill

Microwave Browning Element

Stovetop Pressure Cooker

Toaster/Countertop Oven

Air Fryer

Slow Cooker/Crockpot

Rice Cooker

Grilling Appliance

Pressure Cooker

Multicooker

Direct Heating Source

Open Flames

Camping Stove
2. When heated or cooled too rapidly, glass dinnerware can break.
While cooking, DO NOT:

After cooking, DO NOT:

Transfer directly from freezer to microwave

Add liquid to hot items

Use to microwave popcorn

Microwave while empty

Microwave a tiny amount of food

Overheat oil or butter in the microwave

Use for foods with browning wrappers

Use to boil water (see note 2)

Place hot items in sink

Place hot items on a metal stove grate

Place hot items on a wet or cold surface

Handle hot items with a wet or cold cloth
Notes
The safest place for hot items to cool is on a cooling rack, dry potholder or dry cloth.
DO NOT boil water in any Corelle item on a stovetop.
3. If handled or cleaned improperly, glass dinnerware can scratch or develop fine cracks, and can eventually break.
When handling, DO NOT:

When cleaning, DO NOT:

Bump against hard objects

Attempt to repair when cracked

Use abrasive cleanser or abrasive scouring pads

Clean with hard objects, such as metal
Notes
If items break, USE CARE when picking up sharp pieces to avoid cuts.
Use
Your dinnerware is designed for serving food, and can also be used for reheating and storing food.
| | |
| --- | --- |
| Can be used in: | Glass Dinnerware |
| Microwave | ✓ |
| Refrigerator | ✓ |
| Freezer | ✓ |
Notes
Handle hot items with a potholder or dry cloth.
Care
Cleaning carefully will help keep your dinnerware in good condition.
| | |
| --- | --- |
| Can be cleaned: | Glass Dinnerware |
| Dishwasher | ✓ |
| Hand washing | ✓ |
| Cleaning pads | Plastic or nylon only |
| Cleanser | Non-abrasive only |
Notes
Before first use, wash dinnerware items thoroughly.
Allow items to cool before placing in sink or water.
When using a dishwasher, load items to avoid bumping against other items.
IN CASE OF PROBLEMS Please do not return this item to the store. We will work with you directly to resolve any problems, within the limits of the warranty for this product. We are committed to quality products and superior customer service.
For more information, check our Consumer Care Center.
LIMITED ONE-YEAR WARRANTY
Corelle® Everyday Opal Glass Dinnerware
Corelle Brands LLC, an Instant Brands company, promises to replace any CORELLE Everyday opal glass dinnerware item with a manufacturing defect within ONE year from date of purchase. CORELLE stoneware mugs are not included in this warranty. If the exact item is not available, it will be replaced with a comparable item. The foregoing warranties only apply to products damaged during normal household use. These warranties do not cover damage resulting from misuse, negligence, accidental breakage or attempted repair. For these warranties to apply, the owner must follow the applicable Safety, Use and Care instructions. Incidental and consequential damages are expressly excluded from this Warranty. Some jurisdictions do not allow this exclusion or limitation, so the above may not apply to you. These warranties give you specific legal rights. You may also have other rights, which vary from jurisdiction to jurisdiction. This warranty is applicable to CORELLE products purchased through authorized dealers in each country, and void for CORELLE products purchased from other parties.
Should a warranty problem develop, contact Consumer Care at www.corelle.com. KEEP THE PRODUCT; you may be asked to return it.
CORELLE is a registered trademark of Corelle Brands LLC, an Instant Brands company
© 2021 Corelle Brands LLC, an Instant Brands company
Consumer Care
Soins aux consommateurs
Atención al consimidor
REGION / RÉGION / REGIÓN

CONTACT / CONTACT / CONTACTO

U.S./Canada

Mexico

mx.corelle.com

Shanghai

86-400-680-3262

Japan

81 3-3441-8109

Singapore / Singapura

(65) 6468-2008

Taiwan

0800-013-482

Australia

02-9317-1000 (Sydney Metro)

1800-251-643 (other areas)

Korea

822-2670-7886