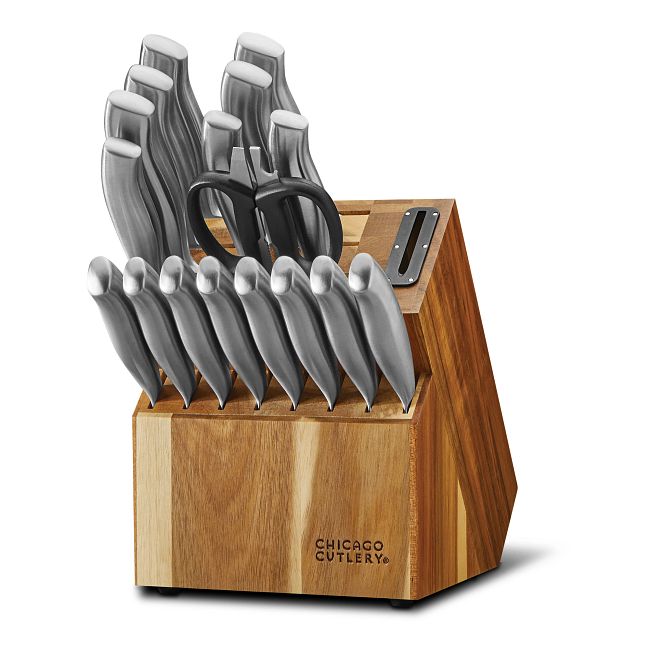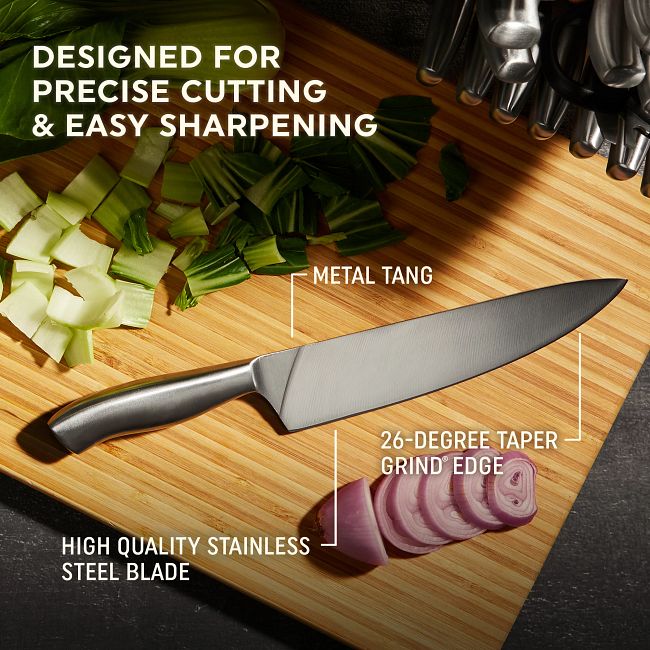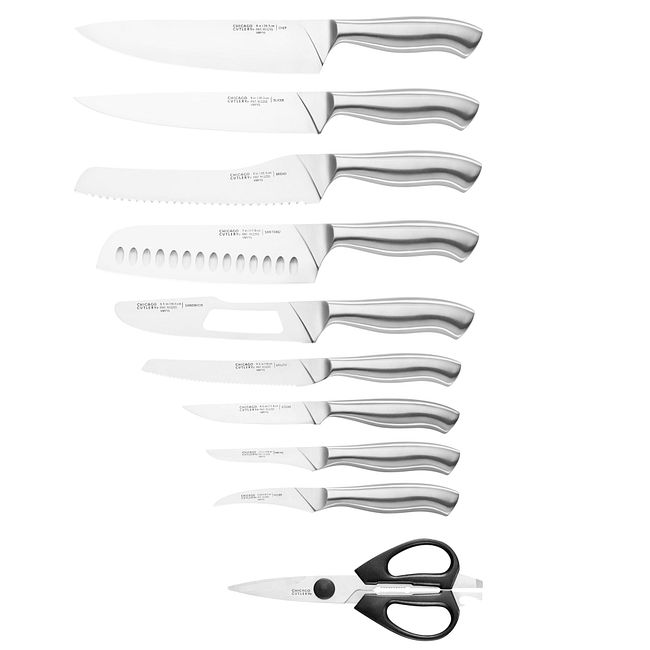 Chicago Cutlery® Insignia Steel™ 18-piece Guided Grip Block Set
Forged designs, full tangs and high-quality stainless steel blades are the hallmarks of the professional-style Insignia block set.
US $119.99

was $178.50
In Stock
Product Details
Contoured knives, stainless steel throughout, were inspired by professional kitchens and purpose-built for specific tasks.
High-quality stainless steel creates stronger, harder blades to resist stains, rust and pitting
Signature 26° Taper Grind edge for optimum sharpness, precise cutting and easy sharpening
Forged design provides increased weight and balance
Full metal tang brings added strength and control
Contemporary stainless steel handles are sleek and contoured
Guided grip to give you optimum control
Hand wash and dry immediately to keep in best condition
Block has built-in sharpener for convenience; shears include a bottle opener
Natural Acacia wood block keeps knives secure
Wood color may vary slightly than what is shown in the photo due to the nature of the wood
Full lifetime warranty
Set Includes
| Item | Quantity | Dimension | Capacity |
| --- | --- | --- | --- |
| Chef Knife | 1 | 8'' length | |
| Slicer | 1 | 8'' length | |
| Serrated Bread | 1 | 8'' length | |
| Santoku Knife | 1 | 7'' length | |
| Serrated Sandwich Knife | 1 | 6.5'' length | |
| Utility Knife | 1 | 5.5'' length | |
| Paring Knife | 1 | 3.5'' length | |
| Peeler | 1 | 3.25'' length | |
| Steak Knives | 8 | 4.5'' length | |
| Shears | 1 | | |
| Wood Block | 1 | | |
Chicago Cutlery Knives Use & Care
Knife Care
For best results, hand wash your knives with soap and water and dry immediately.
Soaking wood-handled knives in water can remove the natural oils from the handles.
DO NOT put knives in the dishwasher. Dishwasher use may cause nicks on the blade edges. Additionally, the heat and detergent may have a corrosive effect on the knives and damage the handle.
DO NOT cut through bone with knives or use knives to poke, pry or separate frozen foods.
DO NOT use knives as screwdrivers or can openers. This is not their intended purpose and can bend or break the blade or edge.
Knife Storage
Sharp knives should never be stored loose in a drawer because contact with hard objects can dull the blade. Many CHICAGO CUTLERY sets are sold with a hardwood block for safe, convenient storage.
MAGNASTRIP® storage is another way for convenient and safe storage, saving counter space with a magnetic strip.
CHICAGO CUTLERY knives purchased individually are available in blade protectors. The blade protectors help keep the knife sharp and provide safe and convenient storage at home.
Sharpening
Sharpeners are not for use on scalloped or serrated edges. For optimum performance, knives should be sharpened after every couple of uses. Use a scouring powder after use to clean and remove metal particles from your sharpening steel. After cleaning the steel, rinse with water, dry it thoroughly and store in a dry place.
Sharpening Steel
Hold sharpening steel point down on flat stable surface such as a table or cutting board.
Angle knife blade approximately 15 degrees from the sharpening steel. Imagine the knife blade is at approximately 11 o'clock and 1 o'clock.
Pull the knife down and across the sharpening steel in a slight arc, pulling the knife handle toward you. Repeat on the other side of the steel.
Repeat these steps 3-5 times, alternating the right and left side of the cutting edge.
Full Lifetime Warranty
Corelle Brands promises to repair or replace, or at Corelle Brands' option, exchange for an item of equal or greater value any Chicago Cutlery® knife with defects in material or workmanship for the lifetime of the product. This warranty does not cover damage resulting from negligence, misuse, abuse, institutional/commercial use or purposes other than normal household use. This warranty does not cover wood blocks or cutting boards. Should a warranty problem develop, contact Corelle Brands Consumer Care: https://www.chicagocutlery.com/customer-care-center . KEEP THE PRODUCT. You may be asked to return it. Incidental and consequential damages are expressly excluded from this warranty. Some jurisdictions do not allow this exclusion or limitation, so the foregoing exclusion or limitation may not apply to you. This warranty gives you specific legal rights and you may also have other rights, which may vary from jurisdiction to jurisdiction.
Note: see separate Prime by Chicago Cutlery warranty.
CHICAGO CUTLERY is a registered trademark of Corelle Brands Holdings Inc, used with permission by Corelle Brands LLC, Rosemont, IL 60018.
© 2020 Corelle Brands LLC, Rosemont, IL 60018